Dag.
This'll
teach me not to go so long without posting.
Sigh.
So much to tell you, so much promised! I figured the best way to do it was to simply follow my trusty list format, so bare with me as you get
pinballed
around this post. And I may make even less sense than normal thanks to the fact that Hubs is having karaoke hour around his computer. Yep, he opened up his
iTunes
and is rocking out. A few minutes ago it was a string of Journey songs and we ended up dancing to Open Arms in our dining room (I recorded that song for him and played it as one of our dances at the wedding). That alone is enough to distract me.
And now he's switched to
Metallica
. Full voice.
Giv'er
buddy. You're
soooo
bad ass (one of our jokes - he told a friend once something was 'bad ass' and I nearly doubled over in hysterics. He's so not the bad ass type).
Anyway, without further ado, here's a list of things I either promised to tell you about or I have since decided is worth blogging about. Are you sitting comfortably? Good, then we'll begin.
Puzzles
- I'm reverting to my childhood. Either that, or I'm fast forwarding through middle age and have arrived safely in my golden years. Yes, I'm talking about jigsaw puzzles. We used to do them a lot as a family when I was younger, and something triggered that memory and I mentioned to Hubs that I wanted to do a puzzle again.
My lovely husband listens to these and other cues so well. So what did I find in my stocking? A 1000 piece puzzle with lots of pink in it.
Lots of pink. And purple. And pretty much nothing else. Yes, my husband bought me one of the most challenging puzzles I've ever tackled in my life.
Not exactly the most stress-free re-entry into
puzzledom
. So I took manners into my own hands and procured some new ones. Both 1000 pieces still, but with more
discernible
features. Like more than purple mountains/sky and pink flowers.
Sheesh
.
My addictive personality took over and I became rooted to my chair for hours on end. I got the first one done in a day and a half. The second one was a
smidge
more challenging, and as we were having company for New Year's Eve, had to be dismantled and removed from our dining room table before its completion.
What a great excuse to put it away. I was not so secretly relieved. :)
I've just bought a new one and have begun the sorting process. So if you're up at 3am call me - you won't wake me. I'll be puzzling.
The Hills
- speaking of addictive personalities...I'd never watched this show before. I'd heard about it, but knew that as with all shows I haven't seen since its inception, you must start at the beginning if you want to understand the present. My great friend
wannabefrenchie
was over for NYE and she and Taco started talking a bit about it.
Shocked and chagrined that I'd never watched it (their reaction)
wannabefrenchie
advised me that seasons one and two were available via Rogers on Demand for free. Season three could be viewed on
mtv
.ca. It was all there, ripe for the picking.
So I'm sure you can guess where my past few days have gone. Yes, that's right, I watched all 40 episodes to date in a day and a half. Now before you wonder about my sanity fret not - each episode is only about 20 minutes long, so I can bang through three in an hour. So I basically pissed away 13 and a bit hours over two days getting caught up on the drama that is the life of Lauren, Heidi, Spencer, Brody,
Audrina
, Whitney, and all those other tertiary characters that show up every once in a while.
I won't bore the non watchers with an in depth (as deep as you can get with these girls) analysis of the show and my thoughts on the whole Heidi/Spencer thing, but just know that if you ever want to chat about The Hills, I'm
soooooo
your gal.
Fabulous Presents
(and photographic renditions) - a few days ago, someone asked me about the presents I received for Christmas, and mused aloud as to whether I received anything pink or any
bling
. My answer then, as now - but of course!
I managed to snap some photos for your viewing pleasure, so in no particular order here are a few of the wonderful gifts my thoughtful friends and family elected to give me this year:
This beauty is a gift from Hubs. When asked what I wanted, I mentioned that a ring with some purple
bling
would be great. Nothing too fancy, but I do wear a good deal of purple so it would be nice to have a ring that matches. Of course the guy goes and buys me this
a
methyst in white gold. Have I mentioned how spoiled I am? It needed to be sized, but should be ready by mid-Feb.
And while we're on the subject of rings, I totally dig this new pink
bling
ring given to my by my sister. Beautiful! On my left hand for illustration purposes only - it's hard to take a picture with your left hand! So I just didn't. And I couldn't find a picture of it on any website, so you're stuck with my massive paws to show it off.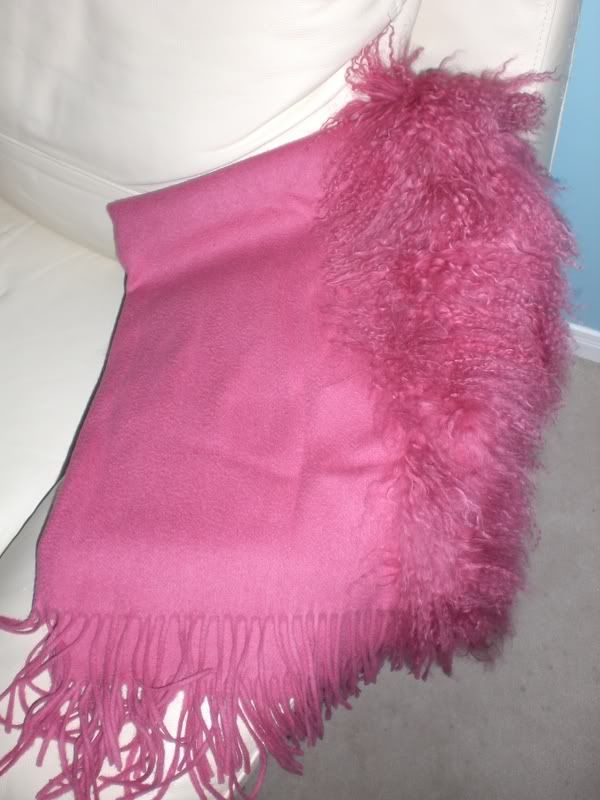 Carrying on with our pink theme, this beautiful baby is the cashmere throw I referenced in yesterday's post. Seriously, how beautiful is she? All fringed out and ready to keep me warm. I love, love, love her! Can't wait to put her to good use!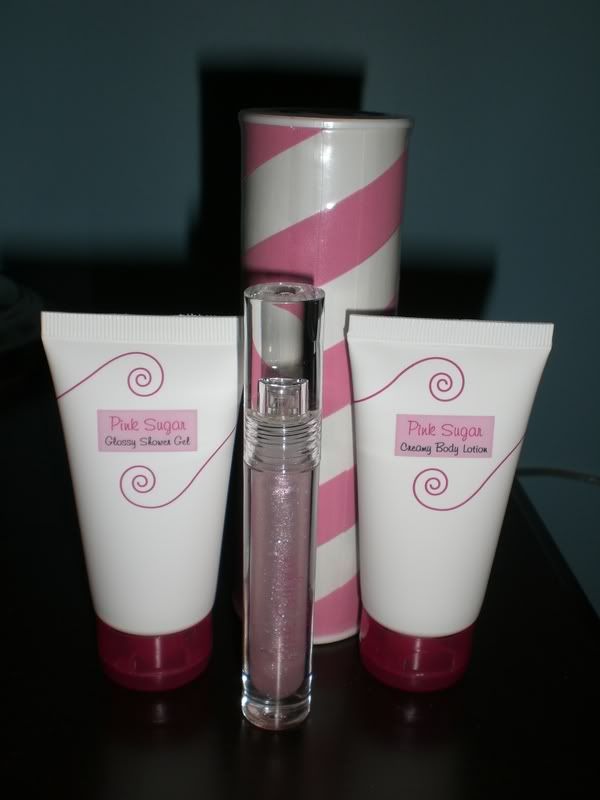 STILL continuing with the pink theme is my gift from the lovely CJ. I lurve Aqualina Pink Sugar perfume, so imagine my delight when I opened this incredible gift pack. And I was just running out, too! Impeccable timing and taste. How divine.
And now for something completely different:
I tried on this very pretty top as an option for Hubs' Christmas party, but decided I needed something a bit more festive. I loved it nonetheless, so Hubs insisted on buying it for me. Being able to wear it makes going back to work next week bearable!
I just love the pattern and the tie behind the back. I actually have a waist, so it's nice to be able to feature it every once in a while instead of hiding behind some box-ily constructed garment.
In addition to everything you see here, I was very fortunate to also receive two pairs of boots, an incredible artist's reproduction of a photo of Hubs and I (amazing), 600 thread count sheets (heaven!) and a homemade scarf and hat from Hubs' mom, all of the colours I mentioned ages ago on this very blog from the OPI Hollywood collection lovingly procured by my fabu sister-in-law, gift cards for clothes and Sephora, comfy pjs, calendars, a Wii game, Scrabble, Connect 4...
I'll stop now, 'cause the more I write the more I realized just how truly spoiled/fortunate I am.
New Year's Eve
- in an effort to become more fiscally responsible, Hubs and I cancelled our reservations at a Niagara on the Lake swanky hotel and decided to host a few people here at our house. DeeDee was still with us, so our party options were always bound to be a bit more subdued.
So we hit M&M Meats, bought the party favours, and had Taco and his wife (and their puppy Charlie) and wannabefrenchie out for the night. We chatted, ate (we were sure to make our own veggie dip this time), drank, played some Wii, and counted down at midnight. Shortly thereafter my sister and her family dropped by to say hello. My poor nephew was desperately trying to remain civil at 12:30 in the morning.
He's three. Trying only gets you so far.
We did get to show off my new niece to the gang, though. And just 'cause I'm such a proud (yet fiercely jealous) auntie, here's a pic that I snapped of her that night in her martian hat.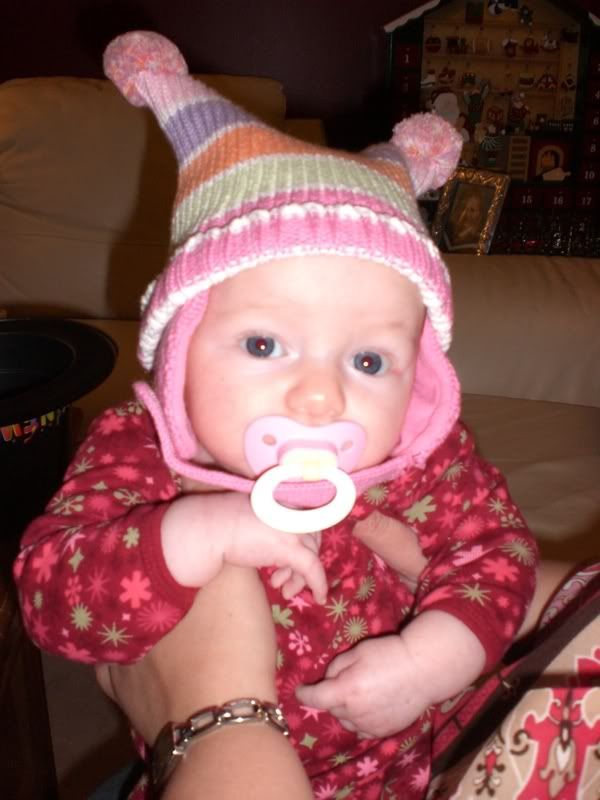 I mean seriously. How fucking cute is she? No wonder I want one of these little things so badly...
So there's my rundown on some key happenings of the past little while. I'd write even more, but this post has been a serious pain in the butt to put together, so I'm spent! To be fair, I also spent the day shopping at Yorkdale with my 20 year old sister who heads back to BC tomorrow for school.
No matter how you slice it, her 20 will always have more energy than my 34.
So that's your daily dash. How's your diva doin'?